Last week the Therapeutic Goods Administration announced plans to change legislation that would make liquid nicotine importation illegal. After a week of community backlash, the Minister of Health Greg Hunt MP, has backed down and delayed the date of the bans to the 1st of January 2020. This gives Australian vapers six months to obtain a legal prescription and allows the TGA and Dr's time to work out how nicotine will be supplied within Australia. 
Several MPs from Greg Hunt's own party came out in support of vaping. A petition started by the Liberal Nationals gained over 30,000 signatures in just a few days, a response that has never before been seen for a parliamentary petition. The response from the vaping community has been truly amazing. With so many people actively engaging with our politicians through emails and phone calls, our voices were heard!
While this may only be a reprieve from the proposed importation ban, it does offer some hope. You can find Greg Hunt's full media release here, but I'd like to take a closer look at the wording of the press release.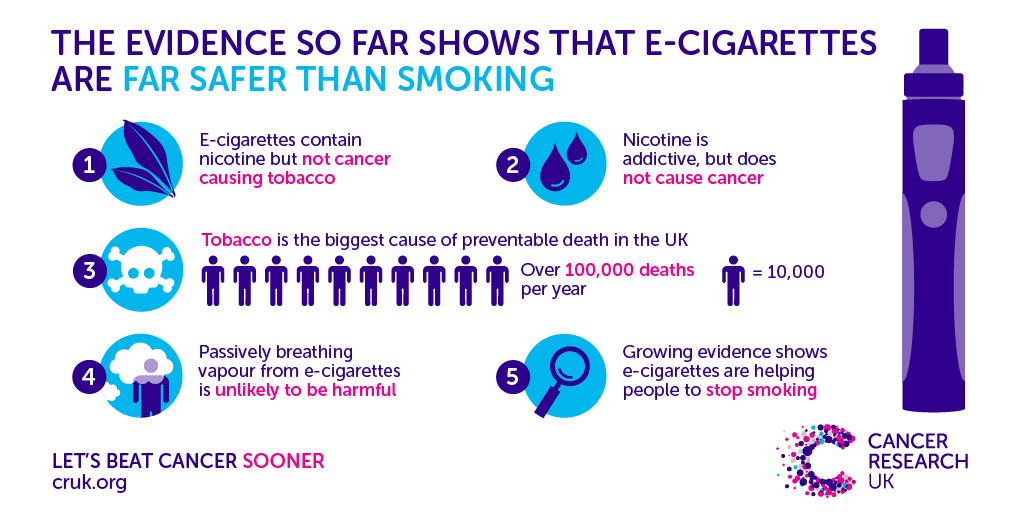 E-Cigarettes are far safer than smoking by Cancer Research UK
Unpacking Greg Hunt's media release
Greg Hunt recognises the need to drop smoking rates further, but, it's clear that taxes are NOT lowering the rates as the government hoped. If the aim is to reduce the smoking rate further, why is Greg Hunt so against vaping?
I find this comment interesting, where is this strong evidence from around the world? A study from 2017 found that "most e-cigarette experimentation does not turn into regular use, and levels of regular use in young people who have never smoked remain very low." Another study in 2016 found that "E-cigarette use in the European Union appears to be largely confined to current, or former smokers, while current use and nicotine use by people who have never smoked is rare. More than one-third of current e-cigarette users polled reported smoking cessation and reduction." There are many studies out there that show the rate of non-smokers taking up vaping is very low.
It seems Greg Hunt doesn't know much about nicotine. Why is it so important to prevent non-smokers from consuming nicotine? There is little research to suggest that nicotine on its own is addictive. A 2011 commentary on Nicotine addiction in the 2010 report of the Surgeon General explains how studies and research into nicotine addiction are flawed. There is no clear evidence to show that nicotine on its own and consumed by human subjects is addictive.
While this sounds like good news, there is no information about this streamlined process. How much paperwork will GP's have to do in order to be able to prescribe nicotine? Will current vapers be forced to try alternative methods such as gums and medications, before being given a prescription for nicotine? Until there is more information on how the prescription process works, we will be facing the same issues in six months time. There is no mention in the press release of who will be distributing the nicotine or how vapers will be able to purchase it.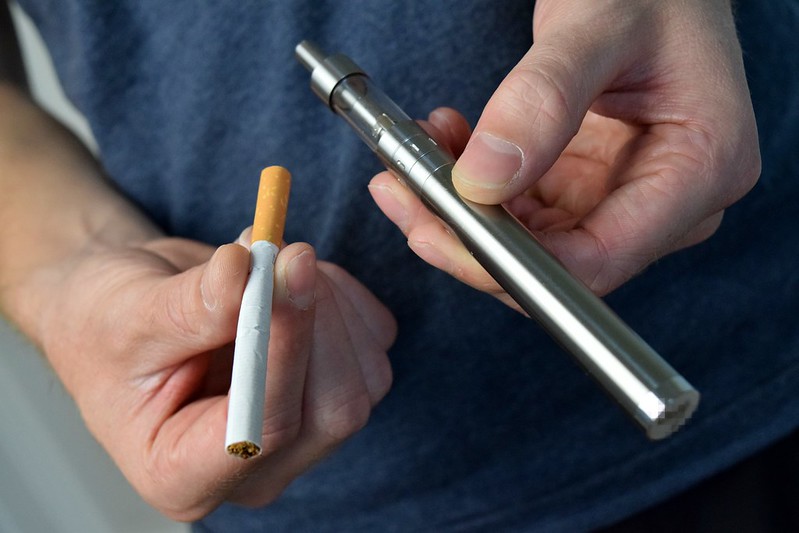 Vaping vs. Smoking | E-Cigarette/Electronic Cigarette/E-Cigs/E-Liquid/Vaping/Cloud Chasing by Vaping360 via Flickr CC-BY-SA-2.0
This is the statement I most have an issue with. It suggests that those seeking a nicotine prescription will be forced to try other products first. If you are a former smoker, chances are you've already tried these methods and failed. The burden of proof is on you to show your GP that other available methods don't work for you. Convincing a GP that these methods don't work can be an impossible task as most GP's have little understanding of vaping and its effectiveness.
This section contradicts the previous section. Why are we being told to ask our GP's for prescriptions when they have guidelines that state vaping is not approved as a first line treatment? You'll need a knowledgeable GP who will go against the guidelines to prescribe nicotine. There is currently only one well known Dr in Australia willing to provide prescriptions for existing vapers over zoom or skype.
I have not yet found any information about this formal review or consultation process. It may be early in the process, or it could mean that this consultation process is taking place behind closed doors without community and consumer input. Rescheduling of nicotine has to happen in order for it to be supplied within Australia. The concern is with how this will be implemented. If nicotine is rescheduled for human use as a smoking cessation aid, this may make it harder for vapers who have no intention of quitting nicotine to get a prescription.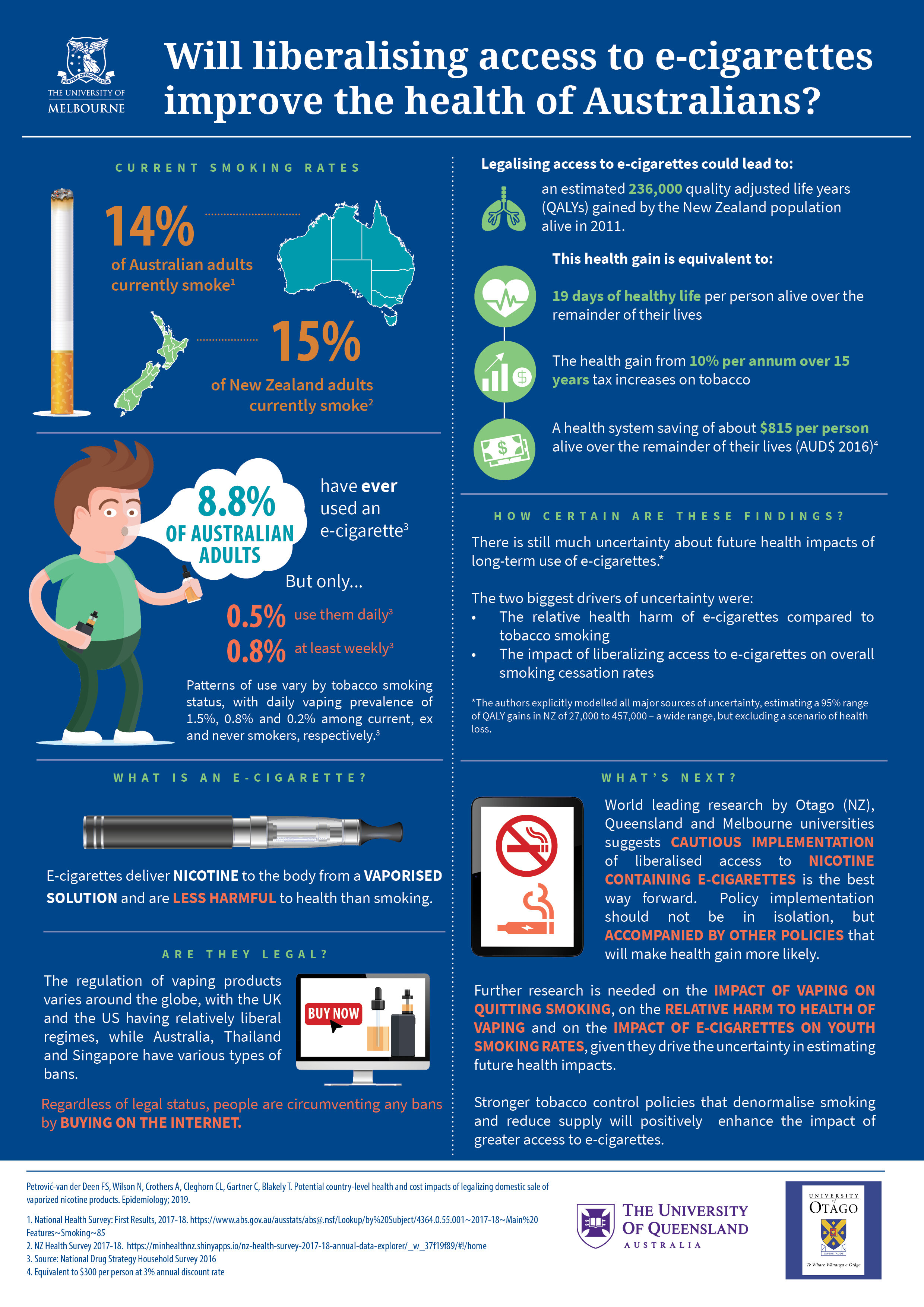 Will liberalising access to e-cigarettes improve the health of Australians? by University of Melbourne via medicalexpress.com
I find it interesting that many of the politicians I've contacted in the last week have used this justification to support the ban on nicotine importation. If nicotine was regulated, and available to purchase within Australia in smaller quantities, the occurrence of poisoning would dramatically decline. Most vapers would agree that regulation would assist in preventing poisonings, but it should not be used as a justification to ban nicotine for vaping. The increase in incidents of poisoning is directly attributed to the increased number of vapers in Australia. These poisonings could have been prevented had the TGA and Australian government considered these regulations and changes to legislation sooner. 
Up to this point to access nicotine you needed to order it in bulk quantities from New Zealand. You can either get a doubler mixture of nicotine in a 6mg nicotine solution for adding to short-fills, or you can purchase a concentration of 100mg which can be added in small amounts to eliquids purchased in Australia. The bottles can vary in size from 125ml to 500ml, nicotine needs to be stored in the fridge or the freezer to keep it from oxidising and losing its potency. These larger bottles all have child safety caps, but many people decant their nicotine into smaller bottles for mixing with 0mg e liquid that often don't have child safety caps. It's the responsibility of the parent to make sure that poisonous substances are stored safely away from children.
It remains to be seen if the proposed changes and regulations will benefit vapers or hinder them. The TGA and RACGP need separate nicotine and tobacco products, they are not the same thing. Much of the confusion about vaping inAustralia, particularly in Victoria, is that vaping products are classed as tobacco products and are governed by the same laws. It also doesn't help that almost every media outlet reported in the last week that e-cigarette devices were also being banned. 
In the next six months vapers need to keep the pressure on MP's, senators, the TGA, and PM Scott Morrison to ensure that new regulations don't exclude current vapers from accessing nicotine. The fight is far from over, but we won this battle! 
Thanks for reading, if you liked this blog post please share! 👇