The Aegis Pod is the smallest of the Aegis family of mods from Geekvape. The Aegis Pod has the same IP-67 waterproof rating and the familiar stitched leather design. While many manufacturers are focusing on the pod mod sector, the Aegis pod may seem to be a step backwards compared to the more popular Boost and Boost Plus. But, this pod is surprisingly powerful thanks for Geekvape's coil technology. Find out more here.
All-in-One Pod System

0.08 Second Firing Speed

5 to 20W Output

Resistance Range 0.4 to 3.0 ohms

LED Light Indicating battery level

Made from Zinc Alloy, Leather and Silicone.

IP67 Rated – Corrosion, Shock and Water Resistant

3.5ml E-Liquid Capacity

Proprietary Drip Tip

G-Coil 0.6 ohm Resistance Single Mesh Coil

Plug and Play Connection

Gold Plated Contacts

800 mAh Built in Battery

USB Type-C Charging

Size 88.1mm by 40.3mm by 18mm

Weight 73g
The overall look and feel of the Aegis Pod is similar to the other mods in the Aegis line but this one is much smaller with a unique shape. A friend who recently purchased one says the shape reminds her of a scarab beetle, it is thicker and wider across the middle. The power button is located front and centre with a small LED indicator light in the middle of the button. The familiar stitched leather design is also present in the Aegis Pod making it a good fit for your Aegis collection. 
Another design feature that is unique to the Aegis pod is the new leak proof technology included in the refillable 3.5ml pod. Unlike the Boost and Boost Plus, filling is done via the bottom of the pod cartridge. Usually bottom fill pods will suffer some leaking or residue, but the Aegis pod battery remains dry even after sitting for a few days. The pod also features a wider airflow than other comparable mesh coil pods, giving you a pod style direct lung hit. 
The Aegis pod is charged via USB Type-C located on the bottom, the first USB Type-C IP67 waterproof device. Unlike the other Aegis mods, the charge port does not have a plastic seal thanks to the new design technology. Geekvape claims that the Aegis is their toughest pod yet with features such as anti-fracturing, anti-deforming, and anti-propagation.

The Aegis Pod is light on features, there is no wattage control or adjustable levels. You simply insert the press fit coil, fill the tank, and away you go. This makes the Aegis Pod a very simple device to use, while also providing adequate power and cloud production for those looking for something a bit more powerful than a traditional pod. 
The built in battery has a capacity of 800mAh, which really doesn't seem much by today's standards, but this is a pod and not a pod mod. Battery technology has come a long way in the last couple of years, and the 800mAh at 15W with the included coil has a good balance of power and battery longevity. The fast USB Type-C charging with passthrough means you can quickly charge the pod while still being able to use it. 
With the new G Coil Hybrid replaceable coils you can get some really decent clouds at only 15-20W. Unfortunately you can't use the GV Boost coils in the pod as they are a larger size. But, Geekvape promises that the pod coils will be cross compatible with future product releases such as the newer Wenax Stylus. As these coils are only rated for 5-15W we may see more low wattage pods from Geekvape in the near future. 
Comparing the G Coil pod, to the GV Boost coils I'm getting more flavour from the latter. That may be due to the slightly larger surface area and the fact they are designed to be used with freebase juices. The G Coils have a resistance of 0.6 ohms, which seems like a low resistance for using nicotine salts, especially with that wider airflow. The coils should have consistently good flavour for at least four refills. 
I decided to try some freebase juice in the Aegis pod and was pleasantly surprised by the amount of vapour from such a low wattage. With the less restrictive airflow the Aegis pod to me is more direct lung than mouth to lung. If you're looking for a low wattage device for using with nicotine salts, that still manages to produce abundant clouds, then the Aegis pod will suit your needs.
Geekvape Aegis Pod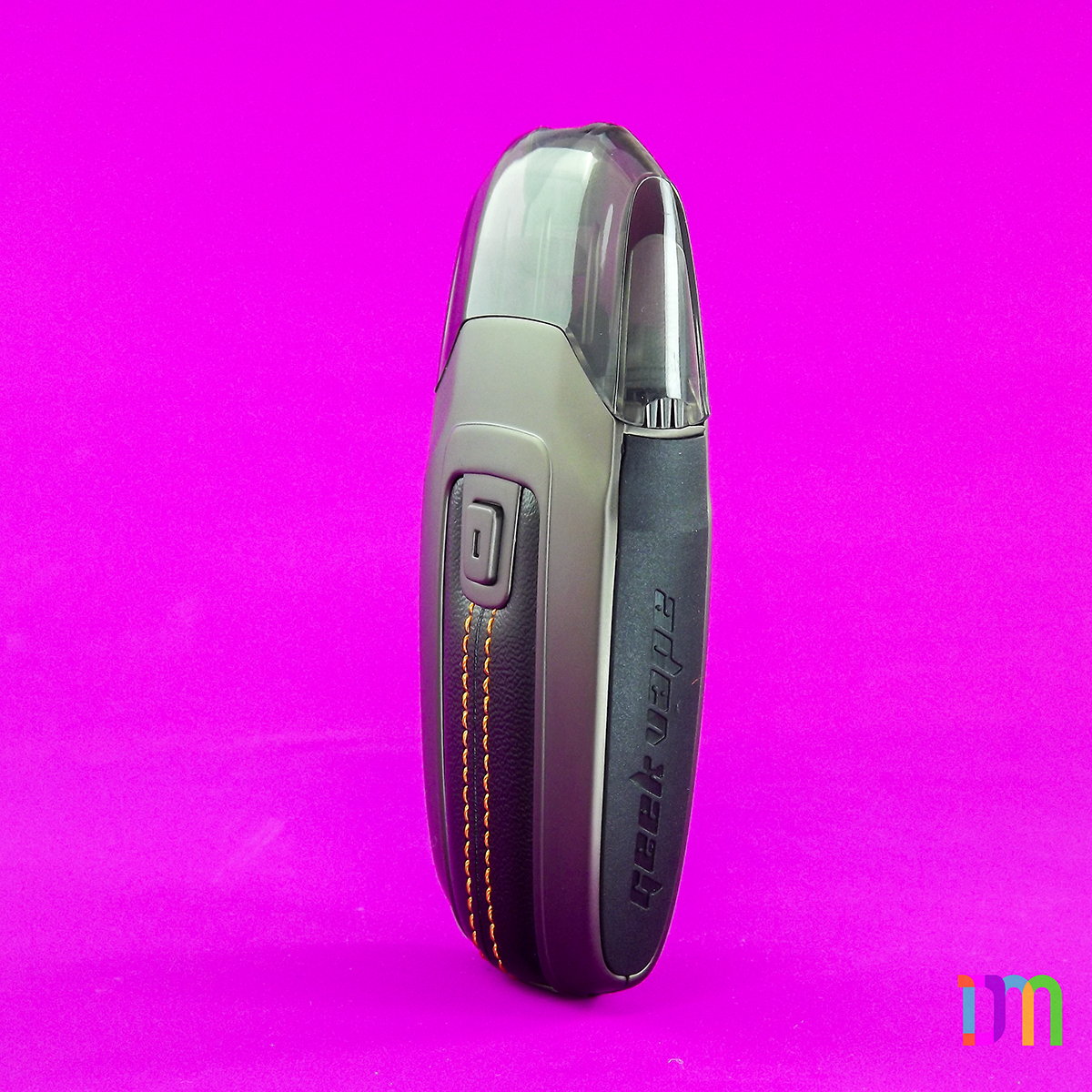 Product Name: Aegis Pod
Brand: Geekvape
Offer price: $34.82
Currency: AUD
Availability: InStock
Offer URL: http://shrsl.com/2fw7v
Design -

90

Features -

70

Flavour -

80

Clouds -

85
Bottom Line
The pod craze doesn't seem to be slowing down, if anything more and more companies are continuing to make these low wattage pods. I think it's an interesting move for Geekvape who have mostly focused on sub ohm setups, and more recently pod mods. In saying that, the Aegis pod really isn't bad. It may have a lower wattage than the Boost but it is much more suited for use with nicotine salts. 
To me the main advantage of the Aegis pod is the less restrictive airflow. It really does feel more like a direct lung draw. Some people may appreciate more than the usual restrictive mouth to lung that you get from most low wattage pods. If you've enjoyed the other Aegis devices from Geekvape then this definitely will fit in with the rest of your collection. The new coil technology is able to create more cloud at lower wattages, if this is something you're looking for the Aegis pod can deliver. 
Pros
even under heavy use the battery contacts were completely dry. 

Being a low wattage you can get a decent amount of time between charges. It should be enough to get your through a full day of vaping. And you can still use the pod as it charges. 

The 3.5ml capacity is generous, while using nic salts I'm only filling every 2-3 days. 

I prefer the bottom filling of this pod to the top filling on the Boost, I find it easier to fil without making a mess. Top filling you can sometimes be fighting the trapped air bubbles which means the juice flows back out of the fill hole. 

The Aegis pods aren't as opaque as others so it's very easy to see your juice level.
Cons
The airflow is slightly confusing, even though this is a nicotine salt pod the airflow is more direct lung than mouth to lung. 

While you can comfortably use freebase juice in this pod you aren't going to get the full flavour experience. 

The coils are kanthal, which is fine. But with so many other material options that provide better flavour, it would be good to see an Ni80 option or SS316L. 
Thanks for reading, if you liked this blog post please share! 👇