The Twister 30W kit is the latest starter kit from Freemax. The Twister 30W variable wattage mod may be smaller than its big brother but don't let the low wattage fool you. With Freemax's new Coiltech 4.0 and the Fireluke 22 tank clouds and flavour are just as abundant as more powerful kits. Find out more about the Twister 30W kit from Freemax
Freemax Twister Battery
Size: L78.3 x D22mm  

Built-in Battery Capacity: 1400mAh

Output Wattage Range: 7.5-30W

Output Voltage Range: 1.9-7.5V

Max. Output Current: 8A

Resistance Range: 0.5-3.0ohm

Power Efficiency: 90%

Twist the base to adjust from 7.5W to 30W (2.5W per click)
Fireluke 22 TANK
Size: L51.41 x D22.0mm

Capacity: 3.5ml/2ml

Material: Steel/SS904L/Tea Fiber Cotton/Resin

Wattage Range: 8-30W

Drip tip: 510
The Twister 30W kit consists of the Fireluke 22 Tank and the Twister 30W variable wattage battery. Like the existing Twister mod the Twister 30W has the same twister style battery that can be adjusted from 7.5W up to 30W. The battery and tank are 22mm in diameter. The tank comes with an included 3.5ml bubble glass as well as a spare 2ml straight glass. 
The LED indicator light is embedded in the power button, indicating the various battery levels. The wattage on the battery is adjusted in 2.5W increments which is perfect if you plan to use this with nicotine salts. The Twister 30W is a hybrid starter kit, meaning that it is capable of both direct lung and mouth to lung. The available MTL coils are perfect for using with nicotine salts. 
The new Fireluke 22 tank is a redesign of the classive Fireluke sub ohm tank. Freemax have also gone with press fit coils. Swapping out your coil with a full tank has been made much easier with a mechanism that closes the wicking channels when the coil is removed. A really clever design feature! 
Another improvement in the design of the Fireluke 22 is the child proof safety cape. The new design means you need to pull up and slide to open the tank for filling. This makes carrying around the Twister 30W kit in your pocket or bag less risky than previous tanks. The leak free design really works. The Fireluke comes with a standard 510 drip tip as well as a narrower one for mouth to lung. Both are made from resin. 
The Twister 30W mod has a battery capacity of 1400mAh, which is more than enough to keep you vaping a day or two even at 30W. Twisting to adjust the wattage is very simple, and removes the need for a digital display. The Twister 20W is charged by micro usb, with a 1.5A fast charge current. A full charge time should take around 80 minutes. 
The Freemax Twister 30W has a range of onboard features such as short circuit protection, low power protection. With the new Fireluke 22 the Twister Kit has the ability to switch easily from a direct lung to a mouth to lung tank by simply adjusting the airflow. The larger airflow hole allows for direct lung or you can turn the airflow adjustment ring down to one hole with various sizes to suit your needs. 
The Twister 30W Kit is the perfect starter kit for new vapers thanks to its dual mouth to lung and direct lung capabilities. Without the need for an external battery the Twister mod is a good introduction to regulated variable wattage mods. 
Freemax have always been known for their high quality coils that produce excellent long lasting flavour. The new Freemax Coitech 4.0 uses a SS904L mesh with the Tea Fibre Cotton Formula (95% Tea Fibre Cotton and 5% Organic Cotton). These coils can perform as well as traditional sub coils but, at a much lower wattage. 
Included in with the kit is the 0.5Ω mesh coil for direct lung, and the 1Ω mesh coils for mouth to lung vaping with nicotine salts. There is also a 1.5Ω mouth to lung coil available. The flavour is truly amazing. Having recently used a similar hybrid tank from Vaporesso, I really prefer the level of flavour I'm getting from the Freemax coils. 
The Freemax 4.0 Coil technology definitely delivers more than just superior flavours. Vapor production at 30W with the mesh coil, is very comparable to sub ohm tanks at a much higher wattage. If you're new to vaping direct lung, these coils are going to give you a pretty good experience for first time clouds. 
Freemax Twister 30W Kit Review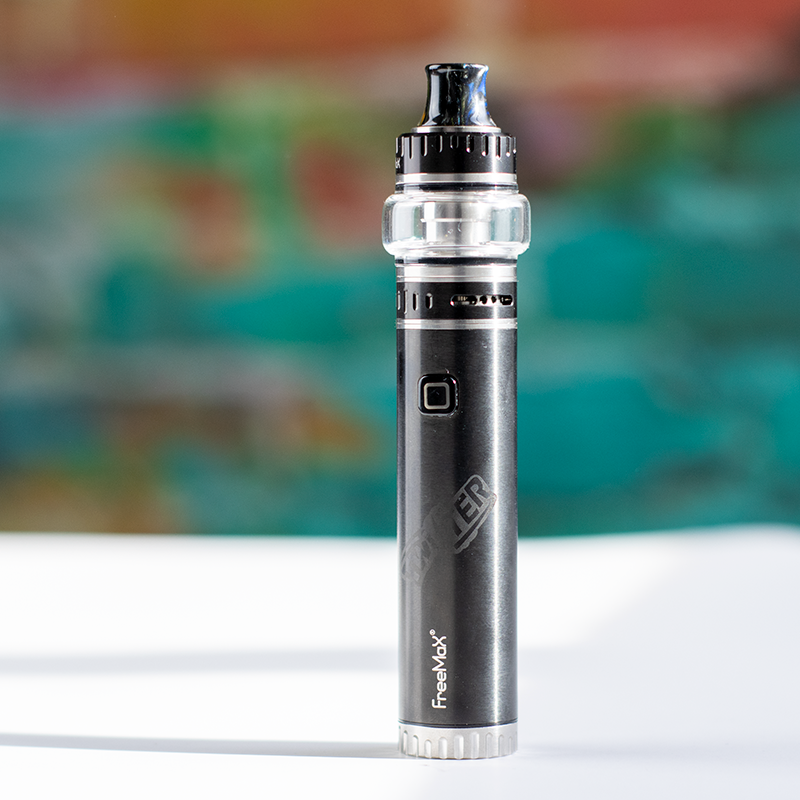 Product Name: Twister 30W Kit
Product Description: The Twister 30W kit is the latest starter kit from Freemax. The Twister 30W variable wattage mod may be smaller than its big brother but don't let the low wattage fool you. With Freemax's new Coiltech 4.0 and the Fireluke 22 tank clouds and flavour are just as abundant as more powerful kits.
Brand: Freemax
Offer price: $64.30
Currency: AUD
Availability: InStock
Offer URL: http://shrsl.com/2fw8n
Bottom Line
This is a really great starter kit. It comes in a bunch of cool colours, black, silver, rainbow, green, gold, and blue. The fact that the Twister 30W kit can do both mouth to lung and direct lung is a big bonus and is what makes it such a versatile kit. The Fireluke 22 tank provides excellent flavour and multiple airflow options for people to experiment with what works best for them. 
These features make the Freemax Twister 30W kit the perfect starter kit for someone just getting started with vaping. Being able to use nicotine salts in this kit is a big bonus, especially for a smoker that may need nicotine salts to help them quit. Having the ability to swap out the coil and adjust the airflow for use with freebase juice means you wont need to buy another tank or setup to try direct lung vaping later one. It's a great convenient size and even more experienced vapers would enjoy the new Fireluke 22 tank. 
Pros
Capable of mouth to lung and direct lung as well as being perfect for using with freebase juices as well as nicotine salts. 

The airflow adjustment is very simple but does both mouth to lung and direct lung well. It's restrictive enough for salts, but also more than ample for big clouds. 

I'm really surprised by the amount of clouds at 30W, these new coils are great!

The battery capacity is great, I found it lasted several days between charges, much more than what you'll get from most pod mods. 

It does have passthrough so you can use it while it charges, the charge time does take a little bit longer than some but the 1.5A fast charging helps. 

I really love the way the tank has been designed to allow you to replace the coils when the tank is full without making a huge mess. 

Press Fit coils make coil installation a lot easier and also makes the Fireluke 22 leak proof. 
Cons
The only negative I can think of is that USB Type-C is becoming standard so that would have been preferable to micro usb. 
Thanks for reading, if you liked this blog post please share! 👇